FILE UNDER: Urban Adventure League Nostalgia Dept.
For those of you not in the Pacific NW, we've had a pretty good run of weather over the past few weeks. It pretty much feels like full-blown summer: always sunny, always warm, all trees fully foliaged. We've hit 80 or above the past few days and will for the next few after. Of course, "full-blown summer" doesn't really happen until July, so while there will be more nice days ahead, there will be some crappy ones too. If anything, this nice weather is a tease.
While this weather is reminding me of all the awesome days to come, it's also reminding me a bit of the awesome days of the past. Namely, my first summer in Portland, 2001. After living on the East Coast most of my life (with the exception of the summer in the Bay Area, where summer never really comes), I equated summer with hot and humid. But the Northwest was different: it still could get hot* but there was no humidity. The dry, pleasant days were a delight, and clear nights were great too. Gone was the eternal quest for a/c that plagues any East Coast summer, I just got on with enjoying myself.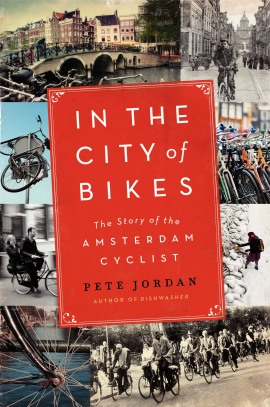 ****
On Friday, there was a special event at the zine/literary center that I've been involved with ever since I moved to Portland, the Independent Publishing Resource Center or
IPRC
for short. Peter Jordan was there to promote his new book about bicycling history in the most bicycling city of them all, Amsterdam. The book,
In The City of Bikes,
was just published by Harper Perennial.
If you're wondering why a reading from a book about bicycles in Amsterdam is happening at the IPRC instead of, say, Velo Cult, well that's because Peter Jordan has a long history with zines and the IPRC. In his previous States-side life, he was popularly known as Dishwasher Pete. His zine, titled simply
Dishwasher,
was about his journeys and adventures dishwashing back in the big bad '90s. He attempted to wash dishes in all 50 states. While he never met that goal, Dishwasher was one of the most popular zines of all time, and his quest actually got the attention of David Letterman. Well, more specifically, Letterman's staff, who booked him for an appearance. Of course,
Pete sent his friend Jess Hilliard to stand in for him on national television
...(Pete and David
have since made up.
)
Letterman with imposter Pete, the 90's.
Anyway! It was quite a big turnout at the IPRC and I ended up seeing a lot of people I hadn't seen in an awful long time, years even. This was to be expected, as before Pete went off to the Netherlands he lived and had a P.O. Box** in Portland. He was a member and volunteer at the IPRC and
Reading Frenzy.
So he's got a lot of friends still here. And some of these old friends were folks I used to see at the IPRC during my first few years of being in town, especially during my first summer when I spent quite a bit of time in the old cramped and hot location downtown. It felt like a walk down memory lane, catching up with some folk.
And then fireworks! Literally. Downtown at the Waterfront is the Cinco de Mayo fest, and the Friday of the fest is always fireworks. In 2001, just a month after arriving in town,
I was living in apartment on SE Morrison
just up the hill from the action. I remember the now familiar booming catching me off guard, but now whenever I hear those fireworks it reminds me how summer is on the way.
The old IPRC location downtown, on its last day of being open, 29 Feb 2012.
When I was leaving the event, I heard live music close-by, so I rode over to investigate it. Someone was having a house show a few blocks away, right next to the railroad tracks. This reminded me of my first summer in town, either walking or riding around at night, wandering, seeing what caught my eyes and ears. As a new transplant I didn't have a lot of local friends or obligations. I worked my crappy job, spent some time at the IPRC, and then wandered around. I would come across house shows and parties and hover around the sidewalk, wondering if I should just "crash" the festivities. Of course I wasn't ballsy enough to do so. So hovering around the outside of this show reminded me of those days. Yeah, the days of aimless wandering were good and bad (it was twee melancholy at times) but it's hard to not romanticize it a bit. You can never go back, but it's still good to get reminded about where you came from.
I hovered outside the show for a few minutes, listening to the music until the band stopped. Then I headed home, where my love awaited me.


*Hotter than the Bay Area, for sure. My Oakland friends were surprised how much hotter Portland was in August, especially since we're north of them.
**During the pre-internet prevalent nineties, this was very important, especially for a traveling zinester like Pete.